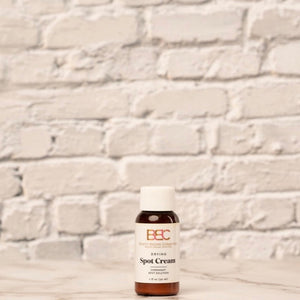 Spot Treatment- Drying Overnight
Beauty Begins Cosmetics' Drying Spot Cream is an on-the-spot solution for stubborn bumps. This fast-acting, effective spot cream is formulated with Salicylic Acid, Sulfur, and Zinc Oxide to help reduce the appearance of redness and impurities from the skin to target pesky problems while you sleep. 
This unique lotion helps to dry up marks overnight. Dip a cotton swab in the bottom of the bottle and apply it to clean skin. In the morning, cleanse your face to reveal soothed, better-looking skin.
The Deets: 
Minimizes the appearance of spots
Helps reduce the appearance of redness
Shrinks the appearance of pore size
The Tea: 
Cruelty-free, Vegan, Paraben-free, Sulfate-free, Talc-free, and Eco-friendly.
Ingredients:
Isopropyl Alcohol, Water, Calamine, Camphor, Colloidal Sulfur, Zinc Oxide, Zeolite, Glycerin, Salicylic Acid, Titanium Dioxide.
Available in 1 fl oz (30g)